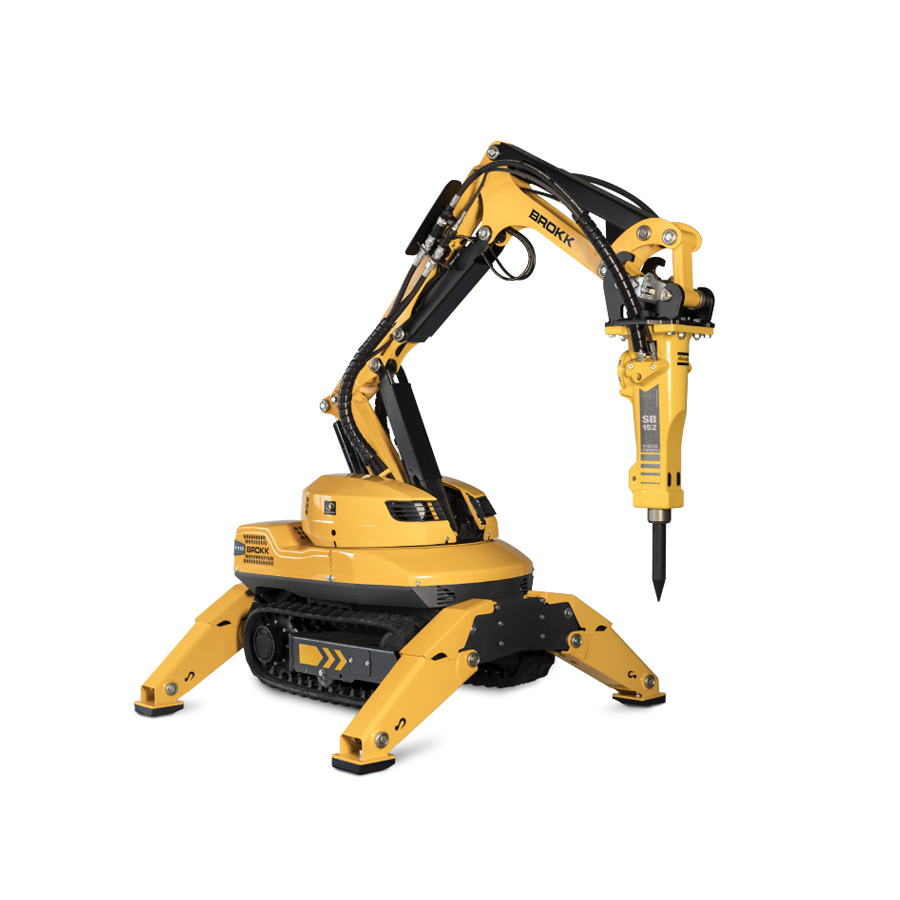 Description
Stronger, smarter, tougher
The most powerful machine in its size
19.5 kW Brokk SmartPower™ electrical system
Powered with both 16 A and 32 A
360° working radius
The Brokk 110 can handle almost anything. With its compact size and outstanding power, it dominates in confined spaces and can easily handle tough terrain or stairs. Additionally, the Brokk 110 can fit in an elevator, as well as a car trailer or small truck. The Brokk 110 is the perfect solution for a wide variety of residential, commercial, and industrial environments. It is truly stronger, smarter, and tougher.
Description
The Brokk 110 demolition robot is the latest of the small machines.
This machine is more powerful then it's predecessor the B100 yet maintains the same weight.
The Brokk 110 will comfortably fit through a standard doorway and will track up and down stairs.
As with all Brokk Demolition Robots, the Brokk 110 can be operated by radio control or umbilical cable.
A range of attachments are available, for breaking, crunching and digging.
Brokk 110 is a versatile demolition robot suitable for breaking / crunching concrete or masonry.
Application
Powerfull light and medium-duty demolition work in residential, commercial and industrial buildings.
Specs
Width (min)
780mm
Weight (plus tool)
990kg
Height (min)
1147mm
Length (min)
1847mm
Power Required
415v 3 Phase (32A)
Motor Power
15kw
Reach incl tool
3500m
Height Reach incl tool
3500m
Noise
91Db
POWER FOR MACHINES:
Brokk 50/90/100 50 KVA Generator or 32a supply with a D rated breaker no more than 75 mtrs from machine operating (use 32amp ext cables)
Brokk 160/180 50-100 KVA Generator or 63a supply with a D rated breaker no more than 75 mtrs from machine operating (use 63amp ext cables)
Brokk 400 Min 100 KVA Generator or 63a supply with a D rated breaker no more than 75 mtrs from machine operating (use 63amp ext cables)
Note: Larger machines can draw up to 100 amp on start-up, which is the reason for a slow blow breaker