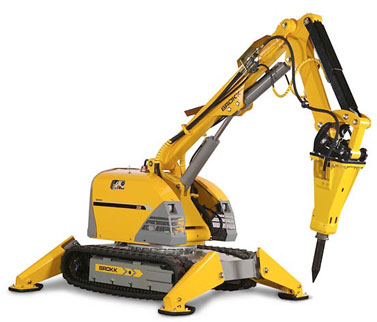 Description
Even more heavy-duty demolition power
Brutal demolition power
Up sized tracking to make use of its power and reach
30 kW Brokk wlectrical system
Built and optimized for heavy, high performance attachments
Description
The Brokk 330 outperforms conventional excavators and is still agile and compact enough to work in tight spaces. The three piece boom system significant for Brokk machines makes accessibility to the most difficult applications easy. The 330 likes heavy demolition work as bridges, vaults, dams and cleaning of ladles.
The Brokk 330 offers high capacity and robustness, along with its renowned mobility and versitility. The undercarriage is upsized to make it the perfect machine for all applications that require extensive tracking. The Brokk 330 weighs 5,100 and can carry tools upto 600kgs.
Applications
A favourite for the toughest heavy-duty work, such as removing heavily-reinforced concretew vaults and foundations withy speed and accuracy.
Spec
Weight
9,600lbs/4571kg.
Height
60in/152cm.
Width
59in/150cm,
Reach overhead
264in/670cm.
POWER FOR MACHINES:
Brokk 50/90/100 50 KVA Generator or 32a supply with a D rated breaker no more than 75 mtrs from machine operating (use 32amp ext cables)
Brokk 160/180 50-100 KVA Generator or 63a supply with a D rated breaker no more than 75 mtrs from machine operating (use 63amp ext cables)
Brokk 400 Min 100 KVA Generator or 63a supply with a D rated breaker no more than 75 mtrs from machine operating (use 63amp ext cables)
Note: Larger machines can draw up to 100 amp on start-up, which is the reason for a slow blow breaker