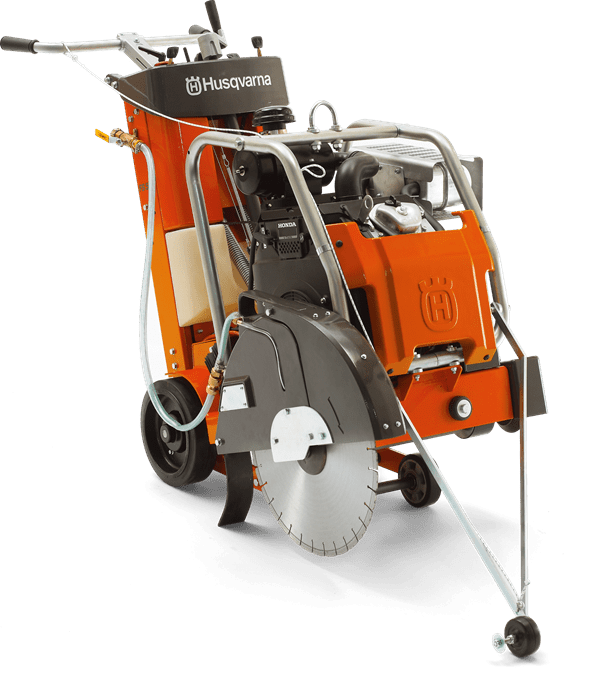 Description
Self-propelled petrol floor saw ideal for asphalt and concrete cutting. Suitable for small to medium-sized service and repair jobs, up to 220 mm cutting depth. The optimal power transmission makes it ideal for more demanding jobs, despite its compact size. User-friendly and developed with a clear focus on your comfort.
Self-propelled
For easy operation and comfort.
Low vibrations
Engine and blade shaft mounting system increases comfort and gives excellent cutting performance.
Self-contained drive system
Self-contained differential drive system eliminating drive gear from rear wheels and related wear. It is simple to handle and maintain.
Optimal power transmission to the blade
Enhanced belt tensioning system gives constant tension without need of re-tensioning, ensuring optimal performance and increased belt life.
Engine
Output power (As rated by the engine/motor manufacturer) – 15.5 kW
Output power at tool shaft – 17.6 kW
Engine cooling – Air
Fuel tank volume – 8.33 l
Cylinders – 2
Number of strokes – 4-stroke engine
Exhaust emissions (CO2 EU V) – 751 g/kWh
Transmission
Transmission speed forward – 24.38 m/min
Cutting equipment
Arbor diameter – 25,4 mm
Blade depth control – Handwheel
Blade diameter, max – 600 mm
Cutting depth, max – 220 mm